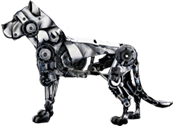 Nu-Tech
Does your vehicle have a ball joint or tie rod end that needs replacing, but is expensive or no longer available? Is the drag link or king pin to expensive to replace? Is it going to take a long time waiting for new parts to arrive? With Nu-Tech we can repair the part whilst it is still fitted to the vehicle!
The Nu-Tech Polymer Bushing System allows you to restore marginally loose front end parts back to new or closer than new tolerances. The parts are restored to new or better than new by injecting a specially formulated molten polymer into the joints while still attached or when removed from the vehicle. The bushing is installed in a molten state through the grease opening by using a unique pressure multiplying tool. The result is a perfectly fitted, free floating, greasable bushing that is warranted for 6 years or 100,000 kilometres.
The following parts can be restored by the Nutech system:
Tie Rod Ends  |  Ball Joints  |  Idler Arms  |  King Pins  |  Cab Hinge Pins  |  Equalizer Bushings  |  S-Cam Bushings  |  Bucket Pins  | Boom Pins  |  Swing Arm Bushings
Dump Gates & Doors  |  Drag Links  |  Centre Links  |  Hood Tilt Pins  |  Trunion Bushings  |  Steer Arms  |  Most Friction Bushings  | Drop Arm Ball Joints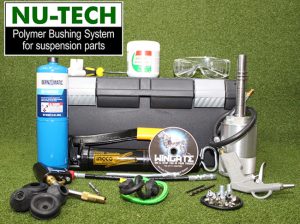 Increase alignment sales! No more lost alignment sales due to marginally loose parts. By selling the product as preventive maintenance, it opens up a whole new market. Restored parts lock out rolling toe change, allowing you to performance align the vehicle resulting in improved handling and reduced tyre wear.
It's simple and quick. The Nu-Tech Polymer Bushing System is simple to use. All it takes is the special tools and materials, some basic instruction and a few minutes. The average part can be restored in 5 to 10 minutes and produces a gross profit of about 85%.
Inject new life into parts! The system can be used to restore and maintain tie rod ends, ball joints, idler arms, drag links, king pins, centre links, control arm bushings and any friction bushing that is not bearing or mounted in rubber. Cars, trucks, fork lifts and even farm and construction equipment, represent opportunities to increase your sales and profits.
Its win - win with Nu-Tech. Your customer wins, and so do you! You can now give your customer a choice: restore or replace. This immediately increases your chances of closing a sale. On a typical job, your customer will save about 50% over parts replacement, but your profit will be the same. Your profit margin will be significantly higher, no parts cost and less labor cost. You don't have to stock parts or wait for them to be delivered (and neither does your customer).
Air pressure should be 100 to 150 PSI working pressure for most injections but some heavy duty and industrial applications will require pressures to 200 PSI. The end result is a perfectly fitted, free floating; greasable bushing that in cars is warranted for 30 000 km or trucks & taxis for 6 months.
Seeing is believing. Don't take our word for it. We sell to hundreds of independent tire dealers, utility companies, RV centers, cities, countries and alignment and suspension shops. Call us and we will give you references for a contractor and send you a demonstration video. Once you see the Nu-Tech Polymer Bushing System in action you will realize what an unbelievable opportunity awaits you.