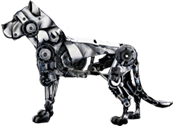 BRAKE PADS
Braking facts: Used for stop, start, heavy loads, heavy traffic. Boats, trailers and horse boxes really put the pressure on braking; REMSA can take it. Winding roads, steep inclines and heavy city traffic are suited to REMSA. Towing and frequent stopping can generate excessive heat and fade with some disc brake pads, but not with REMSA. Features up to seven times longer life, good pedal feel, quiet operation, less dust, long lasting and heavy duty operation.
Recommended driver use and driving styles: frequent braking, police traffic, security control vehicles. taxis, city and suburban heavy traffic, sales representatives, towing, delivery and courier vehicles, etc.
Benefits: confident braking when hot or cold. No embarrassing squeal. Keeps wheel trims and rims clean. Rotors and pads don't need frequent maintenance. Reliable braking under extreme conditions of load and temperature. It protects the braking system, particularly rubber parts and seals. By dramatically reducing heat transfer through the pad, it keeps the calipers cooler, to make braking safer when the heat and pressure are really on.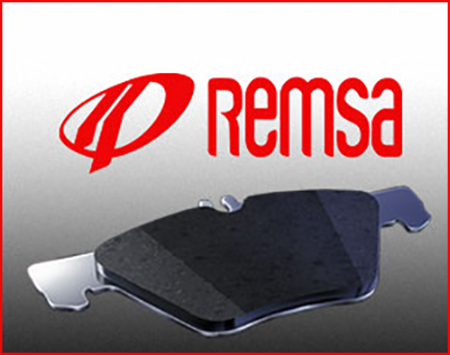 BRAKE DISCS
Our range of brake disc rotors covers the range of all popular cars as well as heavy-duty trucks for the South African market.
We also have brake discs for light and heavy-duty vehicles that are made in the USA, as well as for most "special imports". If we don't have it in stock we can manufacture it to your specification.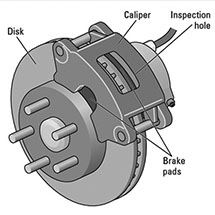 BRAKE DRUMS
Our range of brake drums covers all popular cars, as well as heavy-duty trucks for the South African and international market. We also have brake drums for most special imports, made in the USA. If we don't have it in stock we can manufacture it to your specification. We also have available for all models of cars, a full range of brake hardware, pad wear sensors, bleeder screws, pipe nuts, steel tubing, hold-down kits, caliper slides and bushings for drum and disc brakes.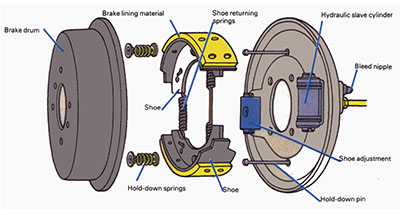 BRAKE CYLINDERS
Wingate carries 2595 cylinder assemblies for clutch, wheel and brakes for passenger vehicles, 4x4, light commercial and heavy duty trucks. Wingate also carries assemblies for off road equipment and agricultural.
Wheel cylinders  |  Slave cylinders  |  Clutch master cylinder  |  Brake master cylinder
New boosters also available.
BRAKE CYLINDER SLEEVING
Wingate is the only brake rebuilding company in South Africa that uses the Australian developed Halray system, which is patented worldwide. We also sleeve the Japanese truck handbrake type wheel cylinders. Your old/vintage car brake, wheel, master or clutch cylinders need never be scrapped, and, we also have the biggest range of new cylinders covering all late model cars and trucks.
Our resleeving of all hydraulic brake and clutch cylinders is done with top grade imported stainless steel tubing. They carry a lifetime warranty on the sleeves. We also specialise in heavy-duty truck handbrake wheel cylinders, up to sizes of 50mm.
Rust is the main problem with cylinders as all brake fluid is hygroscopic (i.e. it retains moisture) and with stainless steel tubing this problem is solved forever. For that "hard to get" cylinder, to resleeve is the answer.
All cylinders are kept to standard sizes, including all Step-Bore cylinders. The technique of resleeving worn or damaged hydraulic components by inserting a stainless steel sleeve in the component bore has been employed by Wingate for many years. There are a number of instances where new replacement wheels, slaves and master cylinders are either no longer obtainable new; or the new components are too expensive or lead times are to long. Resleeving then becomes the only option.
Whether the old cylinders are of cast iron or aluminium manufacture, Wingate can repair it back to original size specifications with the stainless steel sleeve. Tight tolerances are employed in every aspect of the process with re-drilling of portholes and slots. With stainless steel you will benefit by the long life expectancy and we give you a lifetime guarantee on the sleeve.
BRAKE HOSES AND LINES
Brake hoses and lines are the veins of your hydraulic brakes, and are the most neglected part of any brake system.
The best quality pads, discs, tyres and suspensions will not work if your brake hose fails.
The ABS / Wingate Brake Hose Crimper & Tester is an indispensable tool for servicing and/or replacing worn or perished brake hoses. We will make brake hoses to order while you wait. Franchise available.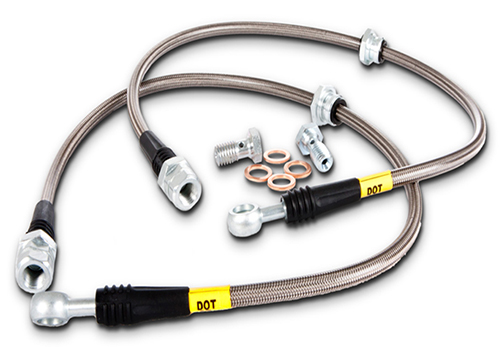 BRAKE RECONDITIONING
The reconditioning unit of our business deals with the reconditioning of all brakes, boosters, servos and all hydraulic brake and clutch cylinders. We also carry out the total rebuilding of faulty power brake units, vacuum assisted braking systems, etc. This service begins with the total stripping down of the unit. All internal components are then replaced with new parts, and the unit is re-assembled and tested for input and output pressures prior to delivery. The reconditioned unit carries a 12-months warranty (conditions apply).
Wingate Motors works closely with most international manufacturers and suppliers and have extensive dealings with the car restoration market, (for which it is well known,) with in-house and supplying specialists across South Africa for a wide variety of makes and models. (See our Gallery).  From A to ZEE, we have the technical know how and contacts to professionally rebuild your brake parts or car to CONCOURSE Presentation. If you need  assistance on your restoration project on a DIY basis this is also available.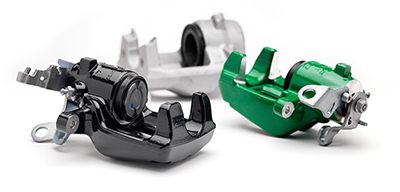 HYDRAULIC KITS
Wingate, together with its international European partner in the manufacturing of hydraulic brake rubber components, has today become a leader in this field. We are the largest supplier of brake kits and rubbers in Africa, supplying to the South African and European OEM aftermarket.
Our brake rubber components are manufactured to ISO9002 and AENOR standards and meet all OEM requirements in the USA, Europe, Australia and South Africa. There is no job too small or too big for our plant. We export into the African Continent, USA, Australia, and the Atlantic Rim.
Any special rubber parts can be made for brake fluid, mineral oil, air or vacuum booster requirements. Our packing facility will also pack your own brand name.
The range of rubber-only kits has now been expanded to include a piston kit range, for all Japanese, USA and European imports, for brake and clutch master cylinders, wheel cylinders, calipers and clutch slave cylinders.
Our heavy-duty division can supply a full range of truck heavy-duty brake kits, OEM quality and cylinders for Isuzu, Hino, Mitsubishi, Nissan, Toyota and most other Japanese and imported trucks.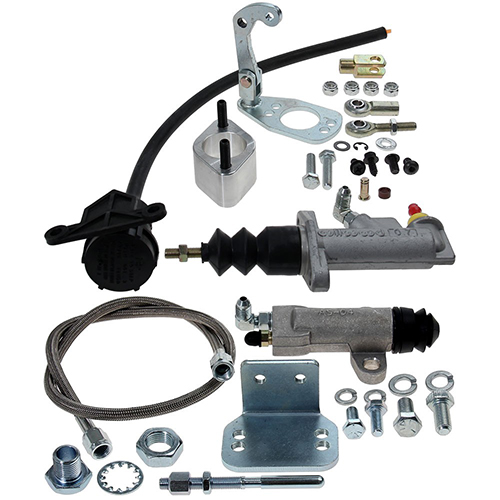 PBR TRAILER BRAKING
Wingate Motors' PBR power brake towing equipment for caravans, boat trailers, horse boxes and any other type of trailer with any axle configuration insures reliable, safe trailer braking under all conditions. Insufficient control over your trailer's brakes can lead to the dreaded "tail wagging" (also known as "snaking") and in extreme cases to "jackknifing". Other, less dangerous but still seriously problematic, problems can occur during up-hill starts and during down-hill runs, when you may loose partial or total control over your vehicle and/or trailer. The results of such an event may vary to a peaceful vacation turning into a nightmare, to injury or death.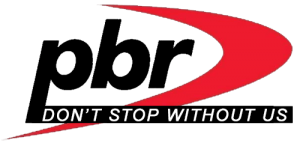 PBR trailer braking systems give you automatic and simultaneous braking action on both the towing vehicle and the trailer when applying the foot brake. Shown in the illustration here is the PBR TV2381A kit which is installed to control the trailer brakes, be they mechanical or hydraulically operated. This is a single line, air suspended and hydraulic type installation kit.
When installed, and in conjunction with either trailer kit TV2340 or TV2341 with a VH116 hydraulic booster, this system will allow more effective braking control at the driver's fingertips through the use of the PV109 hydraulic vacuum control valve. He/she will be able to correct the balance of braking required between car and trailer.
All PBR trailer braking systems are vacuum assisted brake systems for use with both mechanical and hydraulic trailer brakes.
Important Features
The TV2381SA car section will, when the towing vehicle's brakes are applied, automatically operate the trailer brakes with the use of the vacuum-hydraulic PV109 control valve, which is interconnected with the existing hydraulic brake system of the car, together with a vacuum hose which is interconnected with the existing booster vacuum hose or engine, and exits at the rear of the towing vehicle to a sealed vacuum female connector.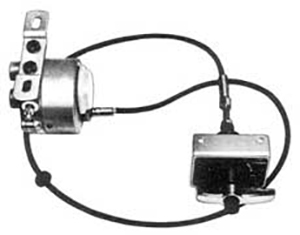 The balance (or ratio) between the car and trailer brakes can be varied to suit all road and load conditions by the turning of the control handle, which is connected to the PV109 valve. Turn the control handle clockwise to increase the effect of the trailer brakes, or anti-clockwise to decrease it.
The hand-operated control handle/lever is fitted in the drivers' compartment and, when used independently, applies the trailer brakes only, overriding all foot control settings. This is a very important safety feature in case of trailer sway, as by pulling on the hand lever only (no foot brake action required) this action will apply only the trailer brakes. This will help, in case you ever get into a swaying motion, to prevent a jack-knife / tail-wagging situation from occurring.
The PV109 hydraulic reaction valve (see above, left) is mounted in the engine compartment in a convenient position to allow the control cable to be fed through the firewall in the engine compartment, connecting it to the control handle assembly situated in the driving compartment, and to the car hydraulic system.
The T659 vacuum reserve tank, which is fitted with a safety vacuum non return valve, is also fitted n the engine compartment, and is interfaced with the vacuum pipe connected to the brake booster and/or engine inlet manifold. This will guarantee that there is always a vacuum available to activate the brake chamber fitted to the trailer, even if the engine stalls or cuts out.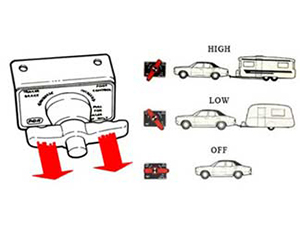 Types of Trailer Braking Installations
Mechanical type installation with the TV2340 installation using the B330R vacuum chamber: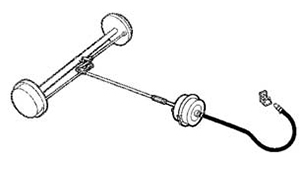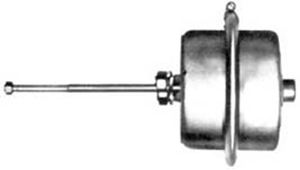 Hydraulic type installation using the VH116 unit. This specially developed unit puts out hydraulic pressure using vacuum applied from the TV2381SA when installed: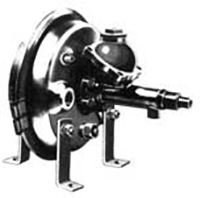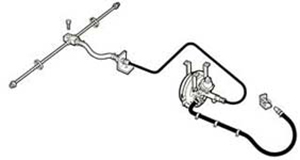 Breakaway with automatic stop using the PV48A interfaced with either the mechanical or hydraulic installations in conjunction with a large vacuum reservoir tank. This system is mandatory in certain installations, e.g. horse boxes or live stock trailers and in certain weight loads: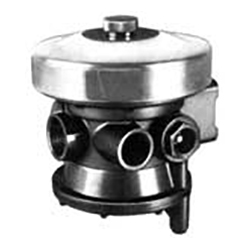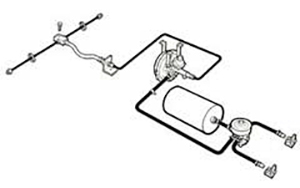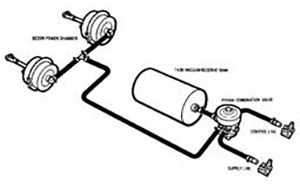 Trailer configurations of single or dual axles whether mechanical or hydraulic braking systems use either of these assemblies. The TV2340 type is used on mechanical axle applications and the TV2341 - VH116 on hydraulic axle applications.
Electric vacuum pump kit #5202000 provides a primary or secondary source of vacuum and is ideal for all diesel driven vehicles. See our Iruna pump for details.
IRUNA VACUUM PUMP
All power assisted brakes are dependant on a vacuum which, in petrol powered vehicles, is usually derived from the engine. Should the engine stall and cut out, you will only have the use of any vacuum left in the power brake booster. On a diesel engine, (as is used on most 4x4 vehicles) an alternator driven pump is usually used, and the same situation will apply. This is shown in more detail on our technical training pages.
More and more brake applications are used on off-road and mountainous driving, where the loss of vacuum is faster than normal. By fitting the Iruna vacuum pump and reserve tank assembly you will always be sure of having a vacuum available when needed. For peace of mind this is a MUST if towing a trailer or caravan.
The Iruna 12V universal vacuum pump fits every make of vehicle with petrol or diesel engines. It can be used as a replacement for all-gear or alternator driven pumps, or as a twin. It adapts to all vehicles on a stand-alone basis and can be mounted on any solid part of the vehicle. The automatic self-operating on/off switch relay (triggered when vacuum is low) reduces the risk of loss of vacuum to the booster. You will never "run out of vacuum" even on idle or off road trail driving on the "Koppies" or mountains. Together with the T659 specially designed vacuum reserve tank you will even have vacuum assist should your engine stall. As long as you have the 12V connection, you will have peace of mind.
The complete Iruna kit consists of:
Electrical vacuum compressor pump # 5202000
Relay with cutout switch
Electronic vacuum distributor with cutout controller
Mounting accessories (screws, nuts, washers, wiring and fittings)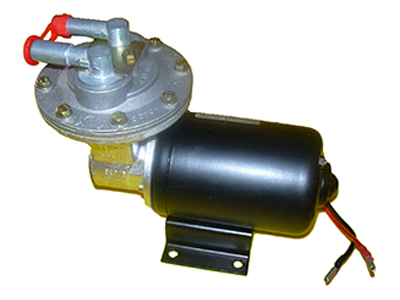 VARI RACING
We stock a few different brands of performance brake pads namely:
If you don't require a complete upgrade we can give you OEM heat treated and slotted discs with a set of performance brake pads.
Because our discs are treated both your disc and pads will last significantly longer, you will have better stopping power and your discs will be able to handle a lot more heat. This is a very good economical choice. Looks great on any car and is easy on your wallet.
These kits are good for stock to mildly modified car.
FULL RACE KIT UPGRADES
Fully CNC billet calipers (4/6 pots)
Calipers are hard anodised for long life and strength. They are extremely light, up to 1 KG lighter than some of our competitor's calipers. The lighter weight is mainly due to its billet construction and design.
CALIPERS
We can supply you with a set of our Ally billet calipers with mounting brackets. Please fill in the website enquiry form and we will let you know if this option will work for you.
2 PIECE DISCS
If you are looking for something that bigger than your OEM disc but will still work with you OEM caliper we can make up a two piece discs for you. All we need is a sample of your original disc.
We manufacture replacement discs for the following cars:
Skyline GTR R35 – Front and Rear
Audi RS4 – Front and Rear
Audi RS6 – Front and Rear
Merc AMG – Front and Rear
Opel Astra OPC J – Front and Rear
Your OEM hat just bolts onto our disc. Discs are heat treated and Jhooked for performance, stopping power, longer life span and they can handle a lot more heat.
COMPLETE BRAKE UPGRADE KITS
We specialize in making kit for just about any car. We have improved our kits over the years. Every single factor of our kits have been tried and tested to make sure we are giving our clients the best product. Our kits range from something that will fit into a small "13 rim straight up to a BIG performance kit that fits into a "22 rim. And if you want something for your old Vintage car or truck we can help you with something as we do custom kits as well.